Glenn L. DeBettencourt, Sr.
1962 -- 2015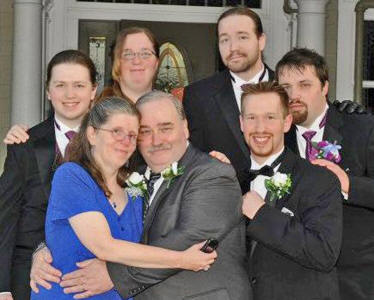 Glenn L. DeBettencourt, Sr. 51 years old, of Lancaster, formerly of Leominster, died peacefully Wednesday, June 12, 2013 in the UMass Memorial Medical Center-University Campus in Worcester after a brave fight with cancer. He is survived by his loving wife of 32 years Kelley J. (Ablett) DeBettencourt, his mother Elaine F. (Kennedy) DeBettencourt, 4 sons Glenn DeBettencourt, Jr., David DeBettencourt and his wife Amber, Matthew DeBettencourt and his wife Samantha and William DeBettencourt, daughter Sarah DeBettencourt and her fiancÚ Jason Keeley, 5 sisters Gail Frechette, Penny Godin and Terry Arroyo, Karen Booth, and Kelly Goodwin, 3 granddaughters and several nieces and nephews. He was predeceased by his father Fred W. DeBettencourt and his brother Gary F. DeBettencourt. Glenn was born March 11, 1962 in Leominster and had lived in Palmer for 15 years before moving to Lancaster a year ago. He had been a self-employed carpenter for the past few years. He was a member of the Life Source Fellowship in Sterling. Glenn enjoyed fishing and cooking, and was a NASCAR, baseball and football fan.
A funeral service will be held on Saturday, June 15, 2013 at 12:30 pm in the New Life Church, 834 Main Street, Leominster. Burial will be private. Calling hours will be held on Saturday, June 15, 2013 from 9 am-12 pm in the Silas F. Richardson & Son Funeral Home, 106 West Street, Leominster.